A disillusioned nurse suddenly learns how to care. An injured young sportsman wakes up find that he can see only in black and white. A desperate old widower takes too many pills and believes that two angels have arrived to usher him through purgatory. Two agoraphobic men called Dave share the symptoms of a brain tumour, and frequently waken their neighbour with their ongoing rows. Separate lives, running in parallel, destined to collide and then explode. Like the suicide bomber, riding the Circle Line, day after day, waiting for the right time to detonate, waiting for answers to his questions: Am I God? Am I dead? Will I blow up this train?
"Hey everyone, there's a brand new book from Will Carver. Its called The Daves Next Door".
"Yay," we all cry, eagerly awaiting the twisted delights that lurk within every page.
"Who wants to do the blog tour?"
"Yay," we shout in unison, "count me in."
Some time later…..
"How's that review going?"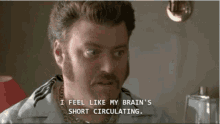 And so, once again, the most testing day of the year is upon me, and my poor inadequate reviewing brain cries out for respite. Will Carver's writing is the embodiment of a riddle, wrapped in a mystery, inside an enigma with a good dollop of madcap genius, as one of the most truly inventive, unique and off-the-wall writers out there. Never started a review with a spin of a quote from Churchill, so from here on in all standard reviewing procedures do not apply. Let us begin…
Ahem.
So, in a nutshell, the book revolves around a group of disparate people experiencing life in truly different/disturbing/enlightening/tragic/life affirming ways, under the eye of a God/omniscient narrator character who provides us with a mind bending host of questions, that depending on how you perceive them, can make you question the whole futility of not only your own existence but humankind as whole, and who may, or may not, be on the cusp of blowing up a train.
With me so far?
Seriously though, despite the main crux of the book taking us on an existential rollercoaster ride, Carver has an unnerving lack of really homing in on, and addressing the greatest evils of our existence, but equally, those moments of human connection and empathy that separate us from our Neanderthal ancestors. Or Christian fundamentalist gun-toting Republicans. From a nurse struggling with her own self-worth and sense of self discovering what truly lies beneath her chosen vocation, to an old man so riddled with grief that after a futile suicide attempt sees angels in his house, albeit angels with a sinister agenda. There's a man/men with a debilitating brain condition, a writer who seems to be a vessel of reason and clear thinking, unafraid to challenge the ignorance of others, and a seriously injured sportsman whose new way of seeing goes hand in hand with an awakening of his true self. All this is undercut with the mysterious God/narrator/suicide bomber riding endless loops on the underground whilst boldly and intuitively holding forth on the ills and stupidity of the world, which will ultimately dictate whether to press that destructive button. Or not.
Carver has an innate skill of burrowing deep into the human psyche, ruminating on the small seemingly inconsequential, to some at least, paranoias that haunt some people, to the big, overarching problems of modern existence that blight us all, keeping some of us awake at night or others in a state of blissful ignorance. Combine this with the day to day dilemmas and fears of his compact and unique set of characters, and this is a book that will make you think, make you cringe in self-recognition, make you laugh (albeit in a dark, and quite frankly, disturbing way) but will also,  through the trials, tribulations and moments of quite life affirming realisations, immerse you completely in the lives of these people. There's angels and demons in this one, but who is to say who is what…
Consequently, I always feel that Carver subverts the need to fix his books in one genre or another, as the wide ranging scope and intelligence of his writing really defies categorisation. I usually judge how much a book has engaged me by how may post-its I insert to highlight particular passages I've enjoyed.
42.
To some- the meaning of life.
To me- damn, I loved this book with its post-it overload.
The Daves Next Door is not an easy read. It's not a linear, beginning, middle and end read, but if you want something to challenge, inform, and entertain you in equal measure, and to spark more questions of your own on your place in the world, and what you really think and believe, well, look no further.
It's just brilliant.
__________________________________________________________
Will Carver is the international bestselling author of the January David series. He spent his early years in Germany, but returned to the UK at age eleven, when his sporting career took off. He turned down a professional rugby contract to study theatre and television at King Alfred's, Winchester, where he set up a successful theatre company. He currently runs his own fitness and nutrition company, and lives in Reading with his two children. Will's latest title published by Orenda Books, The Beresford came out in July 2021. His previous title Hinton Hollow Death Trip was longlisted for the Not the Booker Prize, while Nothing Important Happened Today was longlisted for the Theakston's Old Peculier Crime Novel of the Year. Good Samaritans was book of the year in Guardian, Telegraph and Daily Express. 
(With thanks to Orenda Books for the ARC)
Missed a post? Catch up at these excellent sites: