For a myriad of reasons I have been incredibly lax with posting reviews of all the books I have read this year, so here is a chance for me to, at least, semi-redeem myself and share the joy/pain of some of the books I had not yet reviewed. You may need coffee and cake to make it to the end of this post (I'll try to keep it short and snappy) but I will feel cleansed, and you may find yourselves a few quid worse off….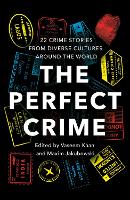 THE PERFECT CRIME: AROUND THE WORLD IN 22 MURDERS-  From Lagos to Mexico City, Australia to the Caribbean, Toronto to Los Angeles, Darjeeling to rural New Zealand, London to New York – twenty-two bestselling crime writers from diverse cultures come together from across the world in a razor sharp and deliciously sinister collection of crime stories. Featuring Oyinkan Braithwaite, Abir Mukherjee, S.A. Cosby, Silvia Moreno-Garcia, J.P. Pomare, Sheena Kamal, Vaseem Khan, Sulari Gentill, Nelson George, Rachel Howzell Hall, John Vercher, Sanjida Kay, Amer Anwar, Henry Chang, Nadine Matheson, Mike Phillips, Ausma Zehanat Khan, Felicia Yap, Thomas King, Imran Mahmood, David Heska Wanbli Weiden and Walter Mosley.
This is a completely brilliant collection of diverse voices from across the globe, collated by the killer- combo of Vaseem Khan and Maxim Jakubowski. An eclectic mix of voices, with a refreshingly balanced gender mix, all works in harmony to bring us the creme de la creme of the international crime writing scene. I'm not going to play favourites, as by and large, the majority of the stories in this collection are outstanding, and I am very happy to discovered a couple of authors I was completely unfamiliar with. It all works like one of those super tasty chocolate/whisky tasting boxes and there is indeed a flavour to suit everyone. Some pretty damn ingenious crimes too….
Highly recommended.
(With thanks to Orion for the ARC)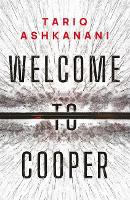 TARIQ ASHKANANI-WELCOME TO COOPER: Cooper, Nebraska, is forgettable and forgotten, a town you'd only stumble into if you'd taken a seriously wrong turn. Like Detective Thomas Levine's career has. But when a young woman is found lying in the snow, choked to death, her eyes gouged out, the disgraced detective is Cooper's only hope for restoring peace and justice. For Levine, still grieving and guilt-ridden over the death of his girlfriend, his so-called "transfer" from the big city to this grubby backwater has always felt like a punishment. And when his irascible new partner shoots their prime suspect using Levine's gun, all hope of redemption is shattered. With the case in chaos, and both blackmail and a violent drug cartel to contend with, he finds himself in a world of trouble. It gets worse. The real killer is still out there, and he's got plans for Detective Levine. And Cooper may just be the perfect place to get away with murder.
I absolutely adored this book which contained all the feels of the very best rural noir- think Frank Bill, Castle Freeman, S A Cosby in a True Detective mash-up. The writing is urgent and visceral throughout, with a beautifully pared down style that I absolutely love. The writing is razorblade sharp, earthy and fits perfectly with the overarching tension of this bleak tale. Set in an atmosphere of sultry and simmering tension where explosions of violence are never far from the surface, Ashkanani envelops us in a brutal world where retribution looms large, and redemption appears a mere mirage. I have recommended this book so many times already and have the next book, Follow Me To The Edge rising to gulp the air near the top of the to-be-read mountain. Absolutely divine…
(I bought this copy of Welcome To Cooper)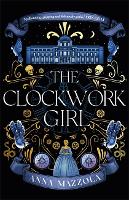 ANNA MAZZOLA- THE CLOCKWORK GIRL: Paris 1750- In the midst of an icy winter, as birds fall frozen from the sky, chambermaid Madeleine Chastel arrives at the home of the city's celebrated clockmaker and his clever, unworldly daughter. Madeleine is hiding a dark past, and a dangerous purpose: to discover the truth of the clockmaker's experiments and record his every move, in exchange for her own chance of freedom. For as children quietly vanish from the Parisian streets, rumours are swirling that the clockmaker's intricate mechanical creations, bejewelled birds and silver spiders, are more than they seem. And soon Madeleine fears that she has stumbled upon an even greater conspiracy. One which might reach to the very heart of Versailles…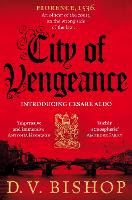 D. V. BISHOP- CITY OF VENGEANCE: Florence. Winter, 1536. A prominent Jewish moneylender is murdered in his home, a death with wide implications in a city powered by immense wealth. Cesare Aldo, a former soldier and now an officer of the Renaissance city's most feared criminal court, is given four days to solve the murder: catch the killer before the feast of Epiphany – or suffer the consequences. During his investigations Aldo uncovers a plot to overthrow the volatile ruler of Florence, Alessandro de' Medici. If the Duke falls, it will endanger the whole city. But a rival officer of the court is determined to expose details about Aldo's private life that could lead to his ruin. Can Aldo stop the conspiracy before anyone else dies, or will his own secrets destroy him first?
As regular readers of my blog know, I do not read a huge amount of historical crime fiction, but I definitely wanted to bring both of these to your attention, as, in my very humble, and historically untrained opinion, I thought they were both superb! Both were steeped in the atmosphere and simmering social and political tensions of the time, immersing the reader completely in these tales set apart in time, but strangely similar in their central characters seeking to overcome the constraints and limitations, society places on them in terms of gender and sexuality. The Clockwork Girl has an ingenuity and imaginative streak that weaves in perfectly with the pitch perfect historical detail, and City Of Vengeance introduces a charismatic and enigmatic investigator, who shows himself to be eminently resourceful and clever, whilst arousing in the reader a complete sense of empathy as he seeks to conceal truths about his character. Both highly recommended.
(With thanks to D. V. Bishop for the review copy of City Of Vengeance/ I bought The Clockwork Girl)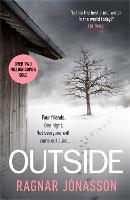 RAGNAR JONASSON- OUTSIDE: In a deadly Icelandic snowstorm, four friends seek shelter in an abandoned hunting lodge. But nothing can prepare them for what's inside. Forced to spend a long and terrifying night in the cabin, they watch intently and silently. Just as they themselves are being watched. As the night darkens, and old secrets spill into the light, it's soon clear that what they've discovered in the cabin is far from the only mystery lurking there. Nor the only thing to be afraid of . . .
I really loved the premise of this one from Ragnar Jonasson , and overall I enjoyed the slow intensity of the build up to this sinister night, which held more than one surprise. The suffocating tension between the four- I use the word friends advisedly- is slowly ramped up, leading to an air of suspicion and accusatory barbs, that threaten the albeit fragile harmony that had previously underscored the trip. The depiction of the extremely inhospitable weather, and the hold it has on the physical escape of the characters is well done, adding another layer of tension. Sadly, I experienced a distinct feeling of disappointment at the ending of the book, which had been so full of suspense and movie style fright night delights up until this point. Maybe it was just me, but a good read that did slightly let me down…
(With thanks to Penguin for the ARC)
SHARON BOLTON- THE DARK- When a baby is snatched from its pram and cast into the river Thames, off-duty police officer Lacey Flint is there to prevent disaster. But who would want to hurt a child? DCI Mark Joesbury has been expecting this. Monitoring a complex network of dark web sites, Joesbury and his team have spotted a new terrorist threat from the extremist, women-hating, group known as 'incels' or 'involuntary celibates.' Joesbury's team are trying to infiltrate the ring of power at its core, but the dark web is built for anonymity, and the incel army is vast. Pressure builds when the team learn the snatched child was just the first in a series of violent attacks designed to terrorise women. Worse, the leaders of the movement seem to have singled out Lacey as the embodiment of everything they hate, placing her in terrible danger…
I've not read the Lacey Flint series before, and I believe that there has been a bit of a hiatus in the series for fans of the books. Consequently, I went into this one with refreshingly no expectations, and thanks to Bolton's extremely good segueing in of back story, was brought quickly up to speed. Despite the need, at times, to suspend my disbelief somewhat, and we'll draw a line under the incredibly trite ending, I did enjoy this overall, mainly it has to be said for bringing attention to the sinister and incredibly threatening world of the incel movement. Operating predominantly within the Dark Web, Bolton exposes us to a world that it is extremely unsettling for women, and an insidious community pandering to the weak minded and delusional men that it entices in. This for me was the central hook of my enjoyment, and I thought that Bolton's characterisation was top notch too. On the back of reading this thriller I have been dipping into Men Who Hate Women by Laura Bates too. Fascinating and disturbing in equal measure…
(With thanks to Orion for the ARC)