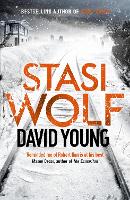 East Germany, 1975. Karin Müller, sidelined from the murder squad in Berlin, jumps at the chance to be sent south to Halle-Neustadt, where a pair of infant twins have gone missing.
But Müller soon finds her problems have followed her. Halle-Neustadt is a new town – the pride of the communist state – and she and her team are forbidden by the Stasi from publicising the disappearances, lest they tarnish the town's flawless image.
Meanwhile, in the eerily nameless streets and tower blocks, a child snatcher lurks, and the clock is ticking to rescue the twins alive . . .
Having absolutely loved David Young's debut, Stasi Child with it's refreshingly different setting, and being steeped in the history of Germany's former divisions, both geographically and socially, here's the next in the series. Once again the indomitable Karin Müller finds herself enmeshed in a thorny and deeply personal investigation, under the watchful eye of the Stasi…
What I have loved about both books is Young's attention to detail, that so firmly roots the reader in this timeframe, allowing us to bear witness to the unique and sinister workings of this totalitarian state. Unlike other authors who fail to balance their reams of research with good solid storytelling, Young consistently displays a knack for both, whether describing the functional architecture of Halle-Neustadt, where Müller is stationed, to further adroit observations on the social stratum that exists behind its concrete façade. He effortlessly melds the constraints of life in the east, with references to the forbidden fruits that lie within the west, and the frustrations that Müller and her cohorts face in the course of their investigation . I really liked the use of the dual narrative, that slowly binds the story together, the revelatory impact on Müller's case. and the grim revelations about certain medical practices in this closed state.
In terms of characterisation, not only does Müller have to navigate the suffocating constraints of state control, which the book excels at,  but there is a slight shift in tone, as Young begins to fill out Müller's own character more, affording some interesting insights into her family history. At times I felt, this development of Muller's character was weighted too heavily against the main plot, giving the book a slight imbalance, and there was one twist in the plot that felt a little too contrived for this reader, leading to the feeling that this was a bridging book to greater revelations ahead, instead of a naturally fluid development of the series. However, I enjoyed the way that once again, Young carefully uses Müller's colleagues to lighten the tone, and adds a much needed softening to the personalities that lie beneath their constricted professional lives.
To be honest though, this one small criticism of Müller's character development within Stasi Wolf  did little to dent my enjoyment overall. Young's astute and compelling use of his chosen location and period of history was as enlightening and educational as ever, within the arc of this dark and disturbing investigation. Recommended.
(With thanks to Bonnier Zaffre for the ARC)
Leonard Howell's worst nightmare has come true: his daughter Caroline has been kidnapped. Not content with relying on the cops, Howell calls the only man he trusts to get her back.
… THE MAN WHO KNOWS THE TRUTH …
Eddie Flynn knows what it's like to lose a daughter and vows to bring Caroline home safe. Once a con artist, now a hotshot criminal attorney, Flynn is no stranger to the shady New York underworld.
… OR THE ONE WHO BELIEVES A LIE?
However, as he steps back into his old life, Flynn realizes that the rules of game have changed – and that he is being played. But who is pulling the strings? And is anyone in this twisted case telling the truth…?
Having reviewed Steve Cavanagh's two excellent previous Eddie Flynn thrillers, The Defence and The Plea  it is with some pleasure that I can say that the big guy has come up trumps again. Having converted me to the enjoyable world of the legal thriller, Cavanagh plunges his stalwart Flynn back into a compelling tale of kidnap and twisted family secrets…
The sharp-talking, quick thinking and utterly engaging character of Eddie Flynn lies at the heart of the success of this America based series to date. He is an entirely likeable protagonist who easily gets the reader on board with his delightful mix of street smarts and, at times, emotional sensitivity. I love the little echoes of his grifter past that undercut his talents as a lawyer, and the interludes of wit that Cavanagh employs in this incredibly fast paced and engaging thriller. Cavanagh's writing is extremely fluid and well-paced throughout, with an uncanny knack in his control of tension and action, from the high-stakes shenanigans of Flynn's courtroom appearances, to his clear-sighted and unquestioning mission for justice for his client.
So as not to spoil your enjoyment of this thriller, I will dwell fleetingly on the plot, as there are more than a few twists and turns and surprising revelations in the course of Flynn's thorny case. What I would say is that there is a proper ass-kicking female FBI agent in this one, who more than deserves a repeat appearance in future books (hint, hint) and a grim tale of dark jealousies that exist between siblings that could only end badly. It is never less than gripping throughout, and Flynn needs his wits about him to navigate this minefield of tricky legal negotiations, and intermittent flashpoints of danger…
All in all, The Liar proves itself an extremely enjoyable, well-plotted thriller with solid characterisation, and a nice sting in the tale. A great addition to an already mustn't miss series. Loved it.
(With thanks to Orion for the ARC)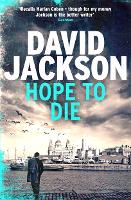 On a bitterly cold winter's night, Liverpool is left stunned by a brutal murder in the grounds of the city's Anglican Cathedral. A killer is on the loose, driven by a chilling rage. Put on the case, DS Nathan Cody is quickly stumped. Wherever he digs, the victim seems to be almost angelic – no-one has a bad word to say, let alone a motive for such a violent murder. And Cody has other things on his mind too. The ghosts of his past are coming ever closer, and – still bearing the physical and mental scars – it's all he can do to hold onto his sanity.
And then the killer strikes again . . .
Hope To Die is the second outing for DS Nathan Cody, and the follow up to A Tapping At My Door the first of David Jackson's new Liverpool based series. Still reeling from the events of the first book, our beleaguered detective has more demons to face in this dark and testing investigation…
Aside from the triple murder case, the book is punctuated by the experiences of a young boy suffering abuse, in this case at the hands of a religiously zealous and cruel mother, and the mental angst of DS Cody himself in the grip of the reverberations of a previous violent interlude in his police career. Jackson largely succeeds at juggling these three strands of narrative, but maybe too consciously is setting the scene for a further book in the series in the case of Cody's torment. I felt early on that the demons haunting him would not be effectively dealt with this in this book, so resigned myself to a possible cliffhanger for this particular story arc, but no matter as the murder investigations he is involved in provided more than enough tension in the main storyline. I thought the plotting and eventual resolution of the murder cases was extremely well done, with a cunningly concealed, but utterly believable perpetrator, and I enjoyed both the build up to,  and the final unmasking of, the killer. Jackson makes liberal use of red herrings and blind alleys, and I always think this adds something to the reading of a thriller, testing out our little grey cells, and playing with our intuition. I also greatly enjoyed the sideswipes at religious fervour and hypocrisy that are central to the murderer's motivations.
Something that is always consistent in Jackson's writing, be it his former New York set crime series, or this one, is his solid characterisation, and the interaction between his characters. There is ready Scouse wit, emotional angst, spikiness, and total professionalism in equal measure, and he never shies away from homing in on this little mis-steps in communication that exist when people have to react with others outside of their professional zone. This is particularly evident in the torturous and frustrating relationship between Cody and DC Megan Webley, whose emotional back and forth, provides a nice little distraction from the grim murder investigation, but not to the detriment of the central plot. More a case of will they again, won't they again, knock their heads together, throw hands up in despair etc…
Hope To Die proves itself another well-executed police procedural from David Jackson, and as another step in the confronting of Cody's ghosts from the past, acts as a good bridge in readiness for the next in the series. I'm looking forward to it already…
(With thanks to Bonnier Zaffre for the ARC)