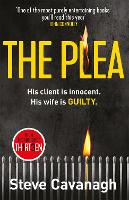 When David Child, a major client of a corrupt New York law firm, is arrested for murder, the FBI ask con-artist-turned-lawyer Eddie Flynn to secure Child as his client and force him to testify against the firm. Eddie's not a man to be coerced into representing a guilty client, but the FBI have incriminating files on Eddie's wife, and if Eddie won't play ball, she'll pay the price. When Eddie meets Child he's convinced the man is innocent, despite overwhelming evidence to the contrary. With the FBI putting pressure on him to secure the plea, Eddie must find a way to prove Child's innocence while keeping his wife out of danger – not just from the FBI, but from the firm itself…
The opening of my review for Steve Cavanagh's first book, The Defence was a general moan-fest about my own personal aversion to legal thrillers, which was turned on its head completely by how much I loved this debut. Admittedly I've not picked up another legal thriller since, as I have been saving myself, metaphorically speaking, for this one, the next outing for a certain shady lawyer by the name of Mr Eddie Flynn…
Once again our smart talking, quick witted and fast thinking lawyer Flynn is again in a whole heap of trouble, reluctantly coerced into defending a rich, timid techno geek on a trumped up murder charge, and seeking to bring down a powerful and inherently corrupt law firm, with his wife's liberty hanging in the balance. That is the seemingly simple premise of what turns out to be a meticulously plotted, exciting, and chew-your-fingernails-down-to-the-quick thriller, with more twists in the tale, and moments of jaw dropping tension that you can possibly imagine. A late night of reading beckons my friends. Cavanagh's control and pace of each strand and curve in the plot is meticulous in its execution, leading the reader to find it incredibly difficult to find a natural break in the book to attend the other small matters of life, work and family. To sustain the amount of tension and some real high octane moments of not an inconsiderable page count is further testament to the skill of Cavanagh's writing. The story pivots effortlessly from the taut courtroom scenes to the violent episodes that occur in Flynn's out of court investigation to clear Child's name and to bring down the sinister and corrupt law firm of Harlan and Sinton, with the overbearing pressure of government agents seeking to dictate his every move. The dialogue is crisp, sharp and precise throughout, working perfectly in tandem with the tension of the book overall.
The characterisation is terrific throughout, aside from the slightly rumpled but always on the ball Flynn, drawing on his family heritage of con artists to bob and weave his way through what seems an impossible task, to his stalwart accomplice the sinister Lizard, and his innocent and all-at-sea client David Child with his limited social skills but razor sharp brain. Set against the 'goodies' are a splendid crew of baddies (cue pantomime hissing) and a few characters that turn out to be a marvellous mix of both. As much as Flynn adroitly displays his legal largesse, the devilish machinations of the aforementioned thwart his every move, leading to tense car chases, physical violence and more moments of peril than you can shake the proverbial stick at. Another enjoyable element of the book is the way that Cavanagh can both inform and entertain the reader through the perplexing world of the American justice system through Flynn's courtroom face offs with the odious District Attorney Zader. and this makes for some excellent snippy exchanges, and the battle of legal intellects.
Admittedly there are a few  plot contrivances to drive the action forward that require a wee bit of suspension of disbelief, but this is just a real put-up-your-feet and enjoy the ride thriller. Go with it, and make time in your summer reading for this little corker. Highly recommended.
Steve Cavanagh was born and raised in Belfast and is a practicing lawyer and holds a certificate in Advanced Advocacy. He is married with two young children. The Defence, has been chosen as one of Amazon's great debuts for 2015, as part of their Amazon Rising Stars programme. In 2015 Steve received the ACES award for Literature from the Northern Ireland Arts Council. The Defence was longlisted for the Crime Writer's Association Ian Fleming Steel Dagger, and shortlisted for two Dead Good Readers Awards.  Steve writes fast-paced legal thrillers set in New York City featuring series character Eddie Flynn. The Defence is his first novel. The Plea is published 19.5.16. Visit the author's website  here or follow  on Twitter @SSCav
(With thanks to Orion for the ARC)