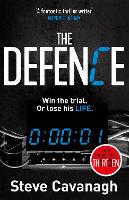 Eddie Flynn used to be a con artist. Then he became a lawyer. Turned out the two weren't that different.It's been over a year since Eddie vowed never to set foot in a courtroom again. But now he doesn't have a choice. Olek Volchek, the infamous head of the Russian mafia in New York, has strapped a bomb to Eddie's back and kidnapped his ten-year-old daughter, Amy. Eddie only has forty-eight hours to defend Volchek in an impossible murder trial – and win – if he wants to save his daughter. Under the scrutiny of the media and the FBI, Eddie must use his razor-sharp wit and every con-artist trick in the book to defend his 'client' and ensure Amy's safety. With the timer on his back ticking away, can Eddie convince the jury of the impossible? Lose this case and he loses everything.
Okay, as they say over the water, here's the thing. I don't do legal thrillers. As a rule they bore me intensely, and I've dabbled in the genre with little success. I'm the type of gal who only watches half of Law and Order. The first half, thus for me, the interesting half, where crimes are perpetrated and people get attacked or murdered. I have little patience for posturing people in judicial wigs or designer suits, impressing no-one but themselves within the confines of the courtroom. BUT a strange thing has happened, nay a miracle, and Mr Cavanagh must be fully congratulated for this. He has written a legal thriller- yes, the alarm bells were ringing- but what's more, a legal thriller that I read in practically one sitting. And loved. Yes, loved. Here's why..
The absolute stand-out feature of this book is Cavanagh's characterisation of sharp-talking but reluctant lawyer Eddie Flynn. Flynn is a wonderfully flawed man with a chequered past, Mafia connections and fundamental human weaknesses, but equally a man of great integrity who has a strong moral core, anxious to avenge the sins of his own former professional career as a lawyer, and to fairly extricate himself and others from the predicament he finds himself in. I thoroughly enjoyed how Cavanagh interweaved the less than honourable aspects of Flynn's past life as a grifter, albeit to seek revenge on those that had wronged himself and his family, with the great personal cost to himself when he also manages to get a clearly guilty man exonerated from a heinous attack on a young woman (the upshot of this case being his withdrawal from his legal career). Finding himself in the clutches of a dangerous conspiracy to dispose of a witness, we are held on the edge of our seats as to how Flynn will thwart the baddies, and ensure the release of his daughter, whilst manipulating the due process of law, and calling in some favours from some less than savoury cohorts. Flynn completely carries the weight of the plot, with the reader believing in him consistently throughout, and with his humour, integrity and quick thinking, there was little to disabuse me of my feeling towards him as a thoroughly believable and likeable character. Equally, Cavanagh's characterisation of the Russian crew was spot-on, presenting us with a host of great baddies for us to despise, but also within the Italian Mafia offshoot, giving us another set of notably bad but affectionately flawed men who Flynn calls upon to help in his hour of need.
The plot moved at breakneck speed with a breathless quality to the whole affair. As Flynn gets even further mired in the Russian conspiracy, there are real hold-your-breath moments, as the clock ticks down to exonerating Volchek without the potentially explosive events that Flynn's failure could cause in the courtroom, and which could compromise the safety of his daughter. The book is well balanced between the unfurling court case, and the cat and mouse defence and prosecution of Volchek, and the events outside as we begin to see the depth of the plot against Flynn, and even Volchek himself, in a series of well-timed reveals that consistently wrong-foot the reader. It's sharp, clever and a brilliantly executed thriller. And it's not often I write those words. The Defence is a great debut, and here's hoping there's more of Eddie Flynn to come.
(With thanks to Orion for the ARC)